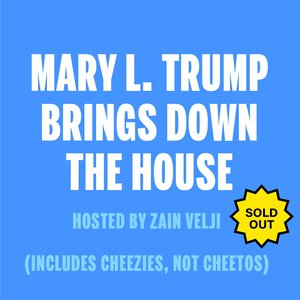 Mary L. Trump Brings Down the House
Hosted by Zain Velji
You know her as the first-time author with the PhD and the notorious last name whose gothic but true family history, Too Much and Never Enough, sold 1.35 million copies in its first week. Mary L. Trump's 2021 follow-up, The Reckoning, laid out the PTSD of post-Trump America, in which she writes, "'we are heading toward an even darker period in our nation's history. Each of us will see what we will see. Our cold civil war continues." She's appearing in Calgary for the first time (thanks to an enthusiastic recommendation from E. Jean Carroll, with whom she is co-writing a serialized romance novel) for a revealing conversation about political and familial trauma with our favourite political strategist Zain Velji.
(Note: There's a fascinating connection between Mary L. Trump and Calgary-raised Susanne Craig, whose reporting of Donald Trump's financial fraud, based on documents supplied by his niece, won the Pulitzer Prize for The New York Times in 2019.) 
About Host Zain Velji
Zain Velji is Partner and VP Strategy for Northweather, a digital-first marketing agency that works with companies, non-profits, and political campaigns. He is also the host of the award-winning podcast The Strategists, where he dissects political strategy and public affairs issues of the day. A frequent public speaker and regular political commentator, Velji appears frequently on CBC Radio and Television, CTV, and Bell Media. In addition, he chairs the board of the YMCA Calgary and serves on the boards of the Canadian Children Book Centre, The Samara Centre for Democracy, and Pillar 9. Velji was named one of Avenue magazine's Top 40 under 40, was awarded the Horizon Alumni Award by the University of Alberta and was a recipient of the Queen's Platinum Jubilee Medal for his community service. He lives in Calgary with his family.
 Instagram: @zainvelji
This event is part of Wordfest's Imaginairium festival, Oct. 11-15, 2023. Connect with 50+ the world's most arresting writers, thinkers, activators and inspirers, gathered just for you in Calgary, Canada. For more info: wordfest.com