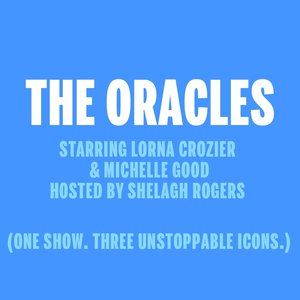 The Oracles starring Lorna Crozier, Michelle Good & Shelagh Rogers
So many facets about this showcase transcend space and time. One: Lorna Crozier is three-quarters of a century young – and 2023 marks her 10th year with Wordfest, dating back to the first festival in 1996. Two: this will inexplicably be the first time Michelle Good has graced the Wordfest stage – so let's roll out the beaded carpet, Calgary! And three: after 15 years broadening the landscape (internal and external) of Canadian literature, Shelagh Rogers has chosen to hang out with us for the full 2023 Imaginairium, starting off by hosting what will be a penetrating conversation about Truth Telling (Good's new bestseller). The consummate truth teller (so said Ursula Le Guin), Crozier will also perform new poems from After That, a book written from the dark hollow we fall into when we lose those we love.
This will be an evening of wisdom and insights for the ages – and all ages. 
This event is part of Wordfest's Imaginairium festival, Oct. 11-15, 2023. Connect with 50+ the world's most arresting writers, thinkers, activators and inspirers, gathered just for you in Calgary, Canada. For more info: wordfest.com