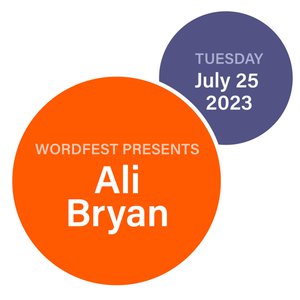 Wordfest Presents Ali Bryan
Jul 25 @ 7 PM - 8:15 PM MT
Memorial Park Library, 2nd Floor
1221 2 St SW
Calgary's prolific, ebullient, and generous Ali Bryan takes the Wordfest stage to celebrate the launch of The Crow Valley Karaoke Championships — and yes, there will be singing! Bad singing (an Abba duet by author and host)! Enthusiastic singing (by all of you)! The conversation, hosted by Wordfest's Creative Ringleader Shelley Youngblut, starts at 7 PM MT, and includes audience karaoke, fuelled by Karaoke Queen Bianca Johnny, and a book signing, with Owl's Nest Books on site.
We are grateful to Raincoast Books Canada for making it possible for us to connect you with Ali Bryan.
About The Crow Valley Karaoke Championships
Ali Bryan is a comedic genius — the kind of writer who makes you laugh until your guts hurt, and then turns around and sucker punches you with a truth so powerful it breaks your heart." —Amy Jones, bestselling author of We're All In This Together
A prison escape, a bear on the loose, botched lyrics. What more could go wrong with Crow Valley's most anticipated night of the year?

A year after forest fires ravaged the town of Crow Valley and claimed the life of Dale Jepson — karaoke legend, local prison guard, and all-around good guy — the community hosts a high-stakes karaoke competition. But when a convicted murderer escapes from nearby Crow Valley Correctional, residents discover there's more on the line than local, perhaps even national, karaoke fame.
In this darkly comedic, fast-paced ride through an unforgettable small town, five residents with intimate connections to Dale and drastically different goals for the night will collide into, conspire with, and aid one another as they scramble to make it successfully through the evening under the scrutinizing watch of neighbours.
To the soundtrack of classics belted out with abandon, voices will crack, cars will be stolen, marriages will falter, and kids will slip away in search of trouble. And maybe, just maybe, lives will be transformed for the better.
About Ali Bryan
Ali Bryan's first novel, Roost, won the Georges Bugnet Award for Fiction and was the official selection of One Book Nova Scotia. Her second novel, The Figgs, was a finalist for the Stephen Leacock Memorial Medal for Humour. Her debut YA novel, The Hill, (2021) was long listed for the 2021 Wilbur Smith Adventure Writing Prize.
Bryan lives in Calgary with her family and a paranoid dwarf rabbit.
About Karaoke Queen Bianca Johnny
Bianca Johnny is a commercial flooring sales specialist who moonlights as a professional singer and karaoke host in Calgary. Her love of music started in Grade 4 choir when she serenaded the gym full of parents with a choir medley of Billy Joel. She hosts karaoke at several bars in the city and sings with her guitarist in the local live music scene. Johnny's go-to karaoke song of choice is Rolling In The Deep by Adele.
About Host Shelley Youngblut
Shelley Youngblut is the CEO & Creative Ringleader of Wordfest. She was the recipient of the 2020 Calgary Award for Community Achievement in the Arts and the 2018 Rozsa Award for Arts Leadership. She also won the 2008 Lifetime Achievement Award at the Western Magazine Awards. Youngblut was the founding editor of Calgary's award-winning Swerve magazine and has created magazines for ESPN, Seventeen, Cosmopolitan, Nickelodeon, Western Living, and The Globe and Mail. A former pop-culture correspondent for ABC World News Now and Canada AM, she is now a weekly panellist on CBC's Daybreak Alberta. She cannot sing.