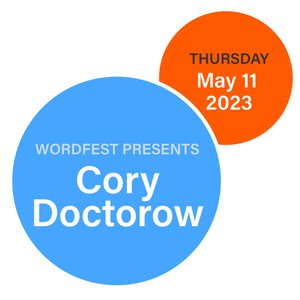 Wordfest Presents Cory Doctorow
Hosted by Peter Hemminger
May 11 @ 7 PM - 8:15 PM MT
Memorial Park Library, 2nd Floor
1221 2 St SW
Wordfest is wired to present prolific post-cyberpunk writer Cory Doctorow and his latest thriller, Red Team Blues: A Martin Hench Novel. The conversation starts at 7:00 PM MT and will be followed by an audience Q&A and book signing.
We are grateful to Raincoast Books for making it possible for Wordfest to connect you with Cory Doctorow.
About Red Team Blues
New York Times bestseller Cory Doctorow's Red Team Blues is a grabby next-Tuesday thriller about cryptocurrency shenanigans that will awaken you to how the world really works.

Martin Hench is 67 years old, single, and successful in a career stretching back to the beginnings of Silicon Valley. He lives and roams California in a very comfortable fully-furnished touring bus, The Unsalted Hash, that he bought years ago from a fading rock star. He knows his way around good food and fine drink. He likes intelligent women, and they like him back often enough.

Martin is a — contain your excitement — self-employed forensic accountant, a veteran of the long guerilla war between people who want to hide money, and people who want to find it. He knows computer hardware and software alike, including the ins and outs of high-end databases and the kinds of spreadsheets that are designed to conceal rather than reveal. He's as comfortable with social media as people a quarter his age, and he's a world-level expert on the kind of international money-laundering and shell-company chicanery used by Fortune 500 companies, mid-divorce billionaires, and international drug gangs alike. He also knows the Valley like the back of his hand, all the secret histories of charismatic company founders and Sand Hill Road VCs. Because he was there at all the beginnings. He's not famous, except to the people who matter. He's made some pretty powerful people happy in his time, and he's been paid pretty well. It's been a good life.

Now he's been roped into a job that's more dangerous than anything he's ever agreed to before — and it will take every ounce of his skill to get out alive.
About Cory Doctorow
Cory Doctorow is a science fiction author, activist, and journalist who is a regular contributor to The Guardian, Locus, and many other publications. His award-winning novel Little Brother and its sequel Homeland were both New York Times bestsellers. His novella collection Radicalized was a CBC Best Fiction of 2019 selection. Doctorow works for the Electronic Frontier Foundation, is a MIT Media Lab Research Affiliate, is a Visiting Professor of Computer Science at Open University, a Visiting Professor of Practice at the University of North Carolina's School of Library and Information Science, and co-founded the UK Open Rights Group. In 2020, he was inducted into the Canadian Science Fiction and Fantasy Hall of Fame. Born and raised in Toronto, he now lives in Los Angeles. Doctorow maintains a daily blog at Pluralistic.net. Follow him at on twitter @doctorow.
About Host Peter Hemminger  
Peter Hemminger is the host of The AM, a weekly dose of eccentric sounds every Monday morning on campus and community radio station CJSW 90.9FM. An occasional arts journalist and regular contributor to Calgary's arts and culture community, he has been involved to varying degrees with the Quickdraw Animation Society, Calgary Underground Film Festival, Calgary Folk Music Festival, The Sprawl, and Sled Island, among others. His current day job involves communications for a national charity focused on helping Canada reach its climate commitments.
Curiouser?
• "Cory Doctorow Wants You To Know What Computers Can and Can't Do" - The New Yorker