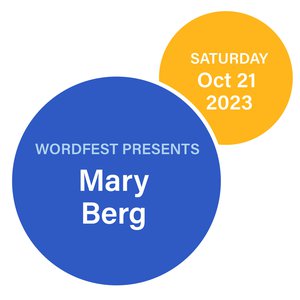 Talk about Good Stuff! Wordfest presents MasterChef Canada champ, bestselling cookbook author, and new daytime tv show host Mary Berg and her newest cookbook, In Mary's Kitchen: Stress-Free Recipes for Every Home Cook.
More good stuff - your ticket includes a copy of In Mary's Kitchen and a tasty conversation hosted by food writer Julie Van Rosendaal. The fun starts at 7PM MT and will be followed by an audience Q&A and book signing.
We are grateful to Appetite by Random House for making it possible to connect you with Mary Berg.
About In Mary's Kitchen: Stress-Free Recipes for Every Home Cook
"The Millennial Ina Garten" -Variety
Everyone loves Mary Berg! And she's back with a cookbook of 100 all-new recipes guaranteed to become your stress-free sidekick in the kitchen.

The kitchen is Mary Berg's happy place, where worries melt away, a busy mind calms, and time seems to slow down. But she knows that for many people, the exact opposite is true! However you feel about mealtimes, Berg is here to help, with uncomplicated but delicious recipes, packed with tips and tricks, to produce flavorful results – every time.
It's What You Need: With chapters broken down into their main ingredient to facilitate easy searching, you'll love Berg's ideas for breakfast, veg & starch, pasta, fish, chicken, beef, pork & lamb, and, of course, sweets. 
Make It Easy! It's not just the name of her award-winning TV program, it's her culinary ethos. Berg's recipes look easy because they are easy, and the ones in this book are her most straightforward yet! 
Find the "Why": With notes in the margin of each recipe giving you the reason behind a certain ingredient or technique, you'll learn tips that act as building blocks for all your culinary endeavors. And with call-outs that point to recipes where you can get ahead, build fast flavor, or get more bang for your buck, home cooks of all skill levels will find something to entice. 
With every recipe Berg writes, her goal is to show you that cooking for yourself, your friends, and your family doesn't have to be boring, difficult, or stressful. No matter the time of day, or day of the week, with In Mary's Kitchen, you'll find everything you need to make the kitchen your happy place too.
About Mary Berg
Mary Berg is the bestselling author of Kitchen Party: Effortless Recipes for Every Occasion, the host of Mary Makes It Easy and Mary's Kitchen Crush, the Season 3 winner of MasterChef Canada, as well as a cooking expert on Your Morning, The Social, and The Marilyn Denis Show in Canada. Her new daily talk and lifestyle series, The Good Stuff with Mary Berg, premieres this fall. After degrees in history, English, and information studies, Berg detoured into a career in insurance for five years, before being convinced by her family to audition for MasterChef Canada and ultimately stealing the show! She has since launched her cooking career full time, and never looked back. Berg lives and cooks in Toronto. Her first word was "cheese."

Website: A Small Stove
Instagram: @mary_berg3
Facebook: @Mary Berg
About Host Julie Van Rosendaal
Julie Van Rosendaal is the Calgary-based author of 13 best-selling cookbooks – You Are Human and You Need Cake is her latest. Her first, One Smart Cookie, was published soon after she closed her cookie bakery of the same name at the turn of the millennium. She has been the food columnist on CBC's Calgary Eyeopener for almost two decades, writes about food for The Globe and Mail, and has been a freelance food writer and columnist for various publications across Canada. Van Rosendaal teaches, speaks, and cooks at culinary schools and events virtually and in real life, and has a very engaged audience on her social media channels.