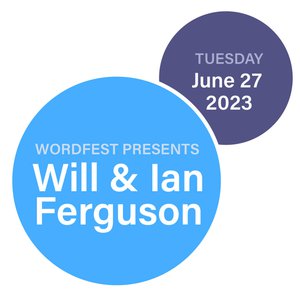 Wordfest Presents Will & Ian Ferguson
Jun 27 @ 7 PM - 8:15 PM MT $20
Memorial Park Library, 2nd Floor
1221 2 St SW
The perfect summer read event! Join us to celebrate the launch of I Only Read Murder, the first comedic collaborative murder mystery by Ian and Will Ferguson, Canada's finest satiric brother duo. The conversation, hosted by Wordfest's Shelley Youngblut (who will have her hands full juggling the endlessly entertaining Fergusons) starts at 7 PM MT and includes an audience Q&A and book signing, fuelled by Owl's Nest Books.  
We are grateful to HarperCollins Canada for making it possible for Wordfest to connect you with Ian and Will Ferguson
About I Only Read Murder

A once-beloved television sleuth finds herself far from Hollywood and witness to a murder during a small-town theatre production – and is convinced it's up to her to solve the case. Introducing a new comedic crime series from the bestselling Ferguson brothers, for fans of Richard Osman's The Thursday Murder Club, Alexander McCall Smith's 44 Scotland Street series and Schitt's Creek
Miranda Abbott, once known for the crime-solving, karate-chopping church pastor she played on network television, has hit hard times. Turned down for a role on a cable reality show, Miranda is facing ruin when a mysterious postcard arrives, summoning her to Happy Rock, a small town in the Pacific Northwest. But when she gets there, nothing is what she expected.
In dire straits, she signs up for an amateur production at the Happy Rock Little Theatre, competing against the local real estate agent for the lead role. On opening night, one of the actors is murdered, live, in front of the audience. But out of 100 witnesses, no one actually saw what happened. Now everyone is under a cloud of suspicion, including the sardonic town doctor, the local high-school drama teacher, an oil-stained car mechanic, an elderly gentleman who may or may not have been in the CIA – and Miranda herself. Clearly, the only way to solve this mystery is for Miranda to summon her skills as television's Pastor Fran and draw on the help of her new sidekick, Susan, a shy bookstore clerk who seems to know everyone's secrets. Because the show must go on!
About Ian Ferguson
Ian Ferguson won the Stephen Leacock Medal for Humour for Village of the Small Houses and is the co-author, with his brother, Will, of How to Be a Canadian, which was shortlisted for the Leacock Medal and won the CBA Libris Award for non-fiction. A writer and creative director in the film and television industry, he lives in Victoria.
About Will Ferguson
Will Ferguson is a three-time winner of the Leacock Medal for Humour. His novels include his debut, HappinessTM, sold in 23 languages; 419, which won the Scotiabank Giller Prize; and The Finder, which won the 2021 Arthur Ellis Award for Crime Fiction. With his brother, Ian, he is the author of the mega-bestseller How to Be a Canadian. He lives in Calgary.
About Host Shelley Youngblut
Shelley Youngblut is the CEO & Creative Ringleader of Wordfest. She was the recipient of the 2020 Calgary Award for Community Achievement in the Arts and the 2018 Rozsa Award for Arts Leadership. She also won the 2008 Lifetime Achievement Award at the Western Magazine Awards. Youngblut was the founding editor of Calgary's award-winning Swerve magazine and has created magazines for ESPN, Seventeen, Cosmopolitan, Nickelodeon, Western Living, and The Globe and Mail. A former pop-culture correspondent for ABC World News Now and Canada AM, she is now a weekly panelist on CBC Radio's Daybreak Alberta. Follow her on Twitter @youngblut and Instagram @youngblutshelley