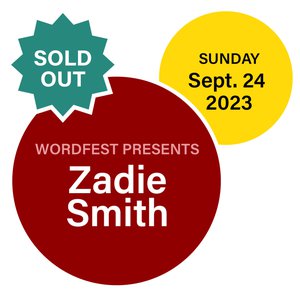 Wordfest Presents Zadie Smith
Sep 24 @ 7 PM - 8:15 PM MT
Patricia A. Whelan Performance Hall, Central Library
800 3 Street SE
SOLD OUT TO E-BLAST SUBSCRIBERS IN RECORD TIME! Click here to join the waitlist. (Thank you, Wordfesters, for your remarkable support. Please encourage your friends and family to sign up for our e-blast to make sure they're the first to hear about even more stellar authors coming to Calgary this year.)
Wordfest is thrilled to be showcasing the incomparable Zadie Smith and her new novel, The Fraud, in Calgary. The 75-minute conversation, hosted by Wordfest's CEO & Creative Ringleader Shelley Youngblut, starts at 7PM MT and includes an audience Q&A, followed by book signing. Shelf Life Books will have copies of The Fraud available for sale, as well as a selection of Smith's dazzlingly extensive back list.
This free event is a gift to the Calgary reading community and takes place in the Patricia A. Whelan Performance Hall at Central Library, which celebrates its fifth anniversary this fall. We are grateful to Penguin Random House Canada for making it possible for Wordfest to connect you with Zadie Smith.
About The Fraud

From acclaimed and bestselling novelist Zadie Smith, a kaleidoscopic work of historical fiction set against the legal trial that divided Victorian England, about who gets to tell their story — and who gets to be believed.

It is 1873. Mrs. Eliza Touchet is the Scottish housekeeper — and cousin by marriage — of a once-famous novelist, now in decline, William Ainsworth, with whom she has lived for 30 years.

Mrs. Touchet is a woman of many interests: literature, justice, abolitionism, class, her cousin, his wives, this life and the next. But she is also skeptical. She suspects her cousin of having no talent; his successful friend, Mr. Charles Dickens, of being a bully and a moralist; and England of being a land of facades, in which nothing is quite what it seems.

Andrew Bogle, meanwhile, grew up enslaved on the Hope Plantation, Jamaica. He knows every lump of sugar comes at a human cost. That the rich deceive the poor. And that people are more easily manipulated than they realize. When Bogle finds himself in London, star witness in a celebrated case of imposture, he knows his future depends on telling the right story.

The "Tichborne Trial" — wherein a lower-class butcher from Australia claimed he was in fact the rightful heir of a sizeable estate and title — captivates Mrs. Touchet and all of England. Is Sir Roger Tichborne really who he says he is? Or is he a fraud? Mrs. Touchet is a woman of the world. Mr. Bogle is no fool. But in a world of hypocrisy and self-deception, deciding what is real proves a complicated task....

Based on real historical events, The Fraud is a dazzling novel about truth and fiction, Jamaica and Britain, fraudulence and authenticity and the mystery of "other people."
About Zadie Smith
Zadie Smith is the author of the novels White Teeth, The Autograph Man, On Beauty, NW, and Swing Time; as well as a novella, The Embassy of Cambodia; three collections of essays, Changing My Mind, Feel Free and Intimations; a collection of short stories, Grand Union; and the play, The Wife of Willesden, adapted from Chaucer. She is also the editor of The Book of Other People. Zadie Smith was born in north-west London, where she still lives.
About Host Shelley Youngblut
Shelley Youngblut is the CEO & Creative Ringleader of Wordfest. She was the recipient of the 2020 Calgary Award for Community Achievement in the Arts and the 2018 Rozsa Award for Arts Leadership. She also won the 2008 Lifetime Achievement Award at the Western Magazine Awards. Youngblut was the founding editor of Calgary's award-winning Swerve magazine and has created magazines for ESPN, Seventeen, Cosmopolitan, Nickelodeon, Western Living, and The Globe and Mail. A former pop-culture correspondent for ABC World News Now and Canada AM, she is now a weekly panelist on CBC Radio's Daybreak Alberta. Follow her on Twitter @youngblut and Instagram @youngblutshelley.
Curiouser?