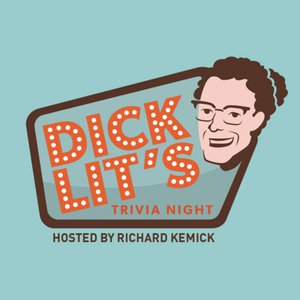 Dick Lit's Trivia Night #15 – featuring Kevin Kent
The most fun you'll have in Calgary for 10 bucks! Prove you're the smartest person in the library. Win big-league bragging rights and tasty beverages.
Join Wordfest for the 15th Edition of Calgary's most Guilt-Free Trivia Competition, hosted by Richard Kemick. Trivia questions are loosely inspired by the month's featured author, and knife connoisseur, Kevin Kent. But familiarity with Kent's work is not required and will not necessarily increase your chances of winning.
About The Knifenerd Guide to Japanese Knives
Kevin Kent, the Knifenerd, takes us behind the scenes with a personal look into the lives of the world's most esteemed blacksmiths to showcase the skill and artistry that goes into making the world's finest knives. From forging and sharpening to choosing and collecting, Kent relays his extensive knowledge and passion about all things Japanese knives.
About Kevin Kent
Kevin Kent is the owner and president of Knifewear in Inglewood. His fascination with handcrafted Japanese knives began while he was working as sous-chef for the legendary chef Fergus Henderson at St. John restaurant in London, England. After returning to Canada in 2007, he took a job as a chef and began selling Japanese knives out of a backpack from his bicycle. After his subtle knife-selling business gained popularity, he opened up his shop.
Knifewear has since expanded to include five stores in Calgary, Vancouver, Ottawa, and Edmonton. Plans are also underway to open a store in Kyoto, Japan. He refuses to confess how many Japanese knives he owns … but he admits the number is rather high. Follow Kevin on Twitter at @knifenerd and find out more about the stores at knifewear.com. When you meet him in person, be sure to ask him about his Lou Reed story.
About Richard Kemick, host of the Dick Lit's Trivia Night series.
Richard Kelly Kemick's poetry and prose have been published in literary magazines and journals across Canada and the United States, most recently in The Walrus and The Fiddlehead. His debut collection of poetry, Caribou Run, was published March 2016 by Goose Lane Editions and selected by CBC as one of the season's Must Read Collections. Most recently, Kemick won the gold medal for Fiction at the 2017 National Magazine Award for his story, "The Unitarian Church's Annual Young Writer's Short Story Competition."