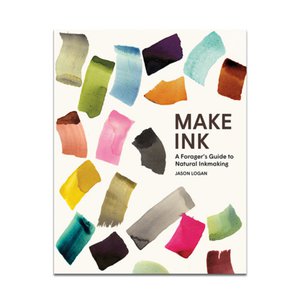 Three-Course Dinner & Inspiring Conversation
Join Urban Ink Forager Jason Logan for a special three-course dinner, created in his honour by the chefs, bakers and pastry chefs at Sidewalk Citizen Bakery, and an evening of unfiltered conversation about the ways we can all become city builders and environmental advocates through engaging with ink. Hosted by Richard Brown. Presented in partnership with Sidewalk Citizen Bakery. (Not included in regular Platinum Pass).
In 2014, Logan began a citizen science experiment to make eco-friendly, urban ink from street-harvested pigments. Since then, The Toronto Ink Company has become far more than just an inkmaker: it's a revolution in natural colour that uses street foraging as a jumping off point for thinking about community, innovation, sustainability and opening our minds to the beauty at our feet.
It was a wonderment: a gathering of talented, engaged, energetic people, discussing the things that matter and embodying those things: frankness, fearlessness, affection, curiosity...and celebrating the delights of the senses, especially food-as-gift. I loved my evening there so much and am still, nearly a month later, abuzz with ideas that were raised. I left with a renewed vision of the possibilities of human generosity. — Man Booker Prize-winning author George Saunders on his Calgary Tzavta experience.
About Make Ink
In Make Ink, Logan delves into the history of inkmaking and the science of distilling pigment from the natural world. Readers will learn how to forage for materials such as soot, rust, cigarette butts, peach pits, and black walnut, then how to mix, test, and transform these ingredients into rich, vibrant inks that are sensitive to both place and environment. Organized by color, and featuring lovely minimalist photography throughout, Make Ink combines science, art, and craft to instill the basics of ink making and demonstrate its beauty and necessity.
About Jason Logan
Toronto Ink Company founder Jason Logan is an internationally recognized designer, creative director, author, speaker and artist. His illustrations appear regularly in the New York Times and his fine art has been exhibited in New York City, Los Angeles, Toronto, and the Yukon. His work has been recognized by the AIGA, SPD, the Centre for Social Innovation, and the Canada Council for the Arts. When he is not making ink, he is the Creative Director of Torstar Digital Products.
About Richard Brown
Richard Brown is the Director of Research and Graduate Studies at the Alberta University of the Arts. He is also an Associate Professor of Drawing, and he has served as the Chair of the School of Visual Art, the Head of Drawing, and the Head of First Year Studies. Brown holds an MFA from Hunter College, City Universities of New York, and a BFA Honours from the University of Manitoba School of Art. Brown maintains an active studio practice with solo exhibitions at Stride Gallery, the Illingworth Kerr Gallery and the Winnipeg Art Gallery, among many others.