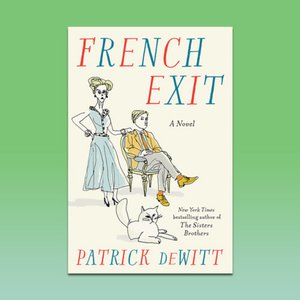 We've Read This Book Club: French Exit
Have you vowed to wean yourself off Netflix and get some serious reading done this spring – then have a great chat about what you've read with an equally engaged group of book lovers?
Come prepared to delve into French Exit, written by the New York Times bestselling author of The Sisters Brothers, Patrick deWitt. The book has been called, "An immaculate performance on ice, executed with sharp shining blades, lutzing and pirouetting above unknowable black depths" by Scotiabank Giller Prize Jury Citation and, "A sparkling dark comedy that channels both Noel Coward's wit and Wes Anderson's loopy sensibility" by NPR.
This event is hosted by blogger and book reviewer Anne Logan of ivereadthis.com, and is part of Wordfest's monthly book club series on the top floor of Memorial Park Library.
French Exit by Patrick deWitt
Frances Price — tart widow, possessive mother, and Upper East Side force of nature — is in dire straits, beset by scandal and impending bankruptcy. Her adult son Malcolm is no help, mired in a permanent state of arrested development. And then there's the Price's aging cat, Small Frank, who Frances believes houses the spirit of her late husband, an infamously immoral litigator and world-class cad whose gruesome tabloid death rendered Frances and Malcolm social outcasts.
Brimming with pathos and wit, French Exit is a one-of-a-kind 'tragedy of manners,' a riotous send-up of high society, as well as a moving mother/son caper which only Patrick deWitt could conceive and execute.
About your host, Anne Logan
Anne Logan worked in the Canadian publishing industry for 7 years, and loved every minute of it. Now she reviews books online at ivereadthis.com, and on-air for CBC Calgary.
Featuring