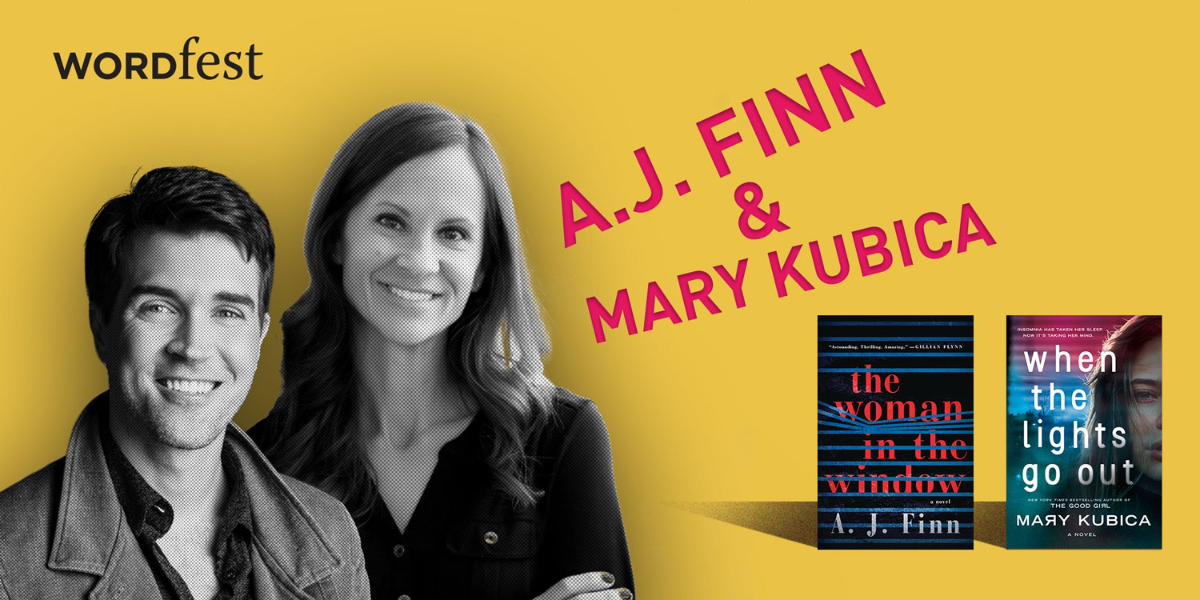 Wordfest presents A.J. Finn & Mary Kubica
The perfect night out for fans of mystery and suspense, whether you get your fix through books or film. This is your chance to pair a glass of wine with mind-bending tales and confessions from the authors of two of this season's hottest thrillers coming out of the United States. Hosted by Shelley Youngblut, this event includes on-stage interviews and readings, followed by an audience Q&A and book signing.
About AJ Finn
A. J. Finn has written for numerous publications, including the Los Angeles Times, the Washington Post, and the Times Literary Supplement (UK). A native of New York, Finn lived in England for ten years before returning to New York City.
About The Woman in the Window
It isn't paranoia if it's really happening . . .
Anna Fox lives alone — a recluse in her New York City home, unable to venture outside. She spends her day drinking wine (maybe too much), watching old movies, recalling happier times . . . and spying on her neighbors.
Then the Russells move into the house across the way: a father, a mother, their teenage son. The perfect family. But when Anna, gazing out her window one night, sees something she shouldn't, her world begins to crumble — and its shocking secrets are laid bare.
What is real? What is imagined? Who is in danger? Who is in control? In this diabolically gripping thriller, no one — and nothing — is what it seems.
Twisty and powerful, ingenious and moving, The Woman in the Window is a smart, sophisticated novel of psychological suspense that recalls the best of Hitchcock.
About Mary Kubica
Mary Kubica is the New York Times and USA Today bestselling author of four novels, including The Good Girl, Pretty Baby, Don't Cry and Every Last Lie. Her first novel The Good Girl was an Indie Next pick in August of 2014, received a Strand Critics Nomination for Best First Novel and was a nominee in the Goodreads Choice Awards in Debut Goodreads Author and in Mystery & Thriller for 2014. Mary's novels have been translated into over twenty languages and have sold over a million copies worldwide. A former high school history teacher, Mary holds a Bachelor of Arts degree from Miami University in Oxford, Ohio, in History and American Literature. She lives outside of Chicago with her husband and two children, where she enjoys photography, gardening and caring for the animals at a local shelter.
About When the Lights Go Out
A woman is forced to question her own identity in this riveting and emotionally charged thriller by the blockbuster bestselling author of The Good Girl, Mary Kubica.
Jessie Sloane is on the path to rebuilding her life after years of caring for her ailing mother. She rents a new apartment and applies for college. But when the college informs her that her social security number has raised a red flag, Jessie discovers a shocking detail that causes her to doubt everything she's ever known.
Finding herself suddenly at the center of a bizarre mystery, Jessie tumbles down a rabbit hole, which is only exacerbated by grief and a relentless lack of sleep. As days pass and the insomnia worsens, it plays with Jessie's mind. Her judgment is blurred, her thoughts are hampered by fatigue. Jessie begins to see things until she can no longer tell the difference between what's real and what she's only imagined.
Meanwhile, twenty years earlier and two hundred and fifty miles away, another woman's split-second decision may hold the key to Jessie's secret past. Has Jessie's whole life been a lie or have her delusions gotten the best of her?