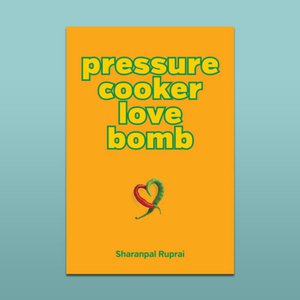 Wordfest Presents Sharanpal Ruprai (Pressure Cooker)
Join us for an evening with the author of Seva for a sizzling event featuring their second book of poetry, Pressure Cooker Love Bomb. This event includes an on-stage interview, followed by an audience Q&A and book signing.
About Pressure Cooker Love Bomb
Poems masquerading as recipes, poems masquerading as survival guides, poems simmered in love, Pressure Cooker Love Bomb is a humorous collection of poems. Ruprai's second collection is infused with intense sexuality, racial tensions, and questions of gender conformity. With various textures of poems, the collection reads as woman of colour's manifesto with instructions.
The opening lines to the poem, sweet like jalebi:
i let the words fly
like a lover tossing her lover
a rope to climb kiss me for real
you kissed me
that day i had my eyes closed
body navigates
knows love
like it knows heat
over skin sunlight bright
to open eyes
About Sharanpal Ruprai
Sharanpal Ruprai is an Assistant Professor in the Department of Women's and Gender Studies at the University of Winnipeg. Sharanpal Ruprai's début poetry collection, Seva, was a finalist for the Stephan G. Stephansson Award for Poetry by the Alberta Literary Awards. Her poetry is featured in a number of anthologies: GUSH: Menstrual Manifestos for Our Time, The Calgary Renaissance, Red Silk: An Anthology of South Asian Canadian Women Poets, and Exposed. Pressure Cooker Love Bomb is her second collection of poetry.