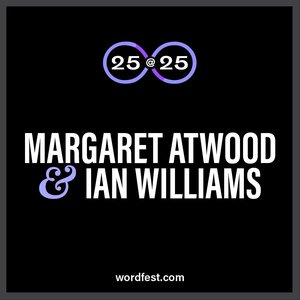 Wordfest 25@25: Margaret Atwood & Ian Williams
Nov 24 @ 7 PM - 8 PM MT
Online

After last week's amazing conversation between Eden Robinson and Emily St. John Mandel, the daisy was passed to Ian Williams. When asked whom he'd like to be paired with as his virtual stage-mate, the Scotiabank Giller Prize-winner didn't hesitate: Margaret Atwood.
Their 60-minute conversation, hosted by Harry Vandervlist, will start at 7:00 PM MT. (The pre-show will begin at 6:50 PM MT.) 
25@25 pass holders have been automatically registered for this event, with access to the live stream on Wordfest.com, as well as the option of watching it on demand whenever works for you.
Single tickets are now on sale for $15 and include on-demand viewing of this event only. (You can always upgrade to a full pass at any time for access to all 13 anniversary events. Just email boxoffice@wordfest.com.)
You'll also receive our unique Digital Doggie Bag sent to your email after the event, with all the links, goodies, and references from the conversation.
About Ian Williams
Ian Williams is the author of the Scotiabank Giller Prize-winning novel Reproduction. His last poetry collection Personals was shortlisted for the Griffin Poetry Prize and the Robert Kroetsch Poetry Book Award. His short story collection, Not Anyone's Anything, won the Danuta Gleed Literary Award for the best first collection of short fiction in Canada. His first book, You Know Who You Are, was a finalist for the ReLit Poetry Prize. Williams holds a Ph.D. in English at the University of Toronto and is currently an assistant professor of poetry in the Creative Writing program at the University of British Columbia. He was the 2014-2015 Canadian Writer-in-Residence for the University of Calgary's Distinguished Writers Program. Williams currently resides in Toronto.
About Word Problems
From Ian Williams, author of Reproduction, winner of the 2019 Scotiabank Giller Prize and a June 2020 Indie Next Great Read
Frustrated by how tough the issues of our time are to solve—racial  inequality, our pernicious depression, the troubled relationships we have with other people—Ian Williams revisits the seemingly simple questions of grade school for inspiration: if Billy has five nickels and Jane has three dimes, how many Black men will be murdered by police? He finds no satisfaction, realizing that maybe there are no easy answers to ineffable questions. 
Williams uses his characteristic inventiveness to find not just new answers but new questions, reconsidering what poetry can be, using math and grammar lessons to shape poems that invite us to participate. Two long poems cut through the text like vibrating bass notes, curiosities circle endlessly, and microaggressions spin into lyric. And all done with a light touch and a joyful sense of humour. 
About Margaret Atwood
Margaret Atwood, whose work has been published in more than forty-five countries, is the author of more than fifty books of fiction, poetry, critical essays, and graphic novels. In addition to The Handmaid's Tale, now an award-winning TV series, her novels include Cat's Eye, short-listed for the 1989 Booker Prize; Alias Grace, which won the Scotiabank Giller Prize in Canada and the Premio Mondello in Italy; The Blind Assassin, winner of the 2000 Booker Prize; Oryx and Crake, short-listed for the 2003 Man Booker Prize; The Year of the Flood, MaddAddam; and Hag-Seed. She is the recipient of numerous awards, including the Peace Prize of the German Book Trade, the Franz Kafka Prize, the PEN Center USA Lifetime Achievement Award, the Los Angeles Times Innovator's Award, and The Dayton Literary Peace Prize for lifetime achievement. In 2019, she was made a member of the Order of the Companions of Honour for services to literature.
About Dearly
The collection of a lifetime from the bestselling novelist and poet.

By turns moving, playful and wise, the poems gathered in Dearly are about absences and endings, ageing and retrospection, but also about gifts and renewals. They explore bodies and minds in transition, as well as the everyday objects and rituals that embed us in the present. Werewolves, sirens and dreams make their appearance, as do various forms of animal life and fragments of our damaged environment.
Before she became one of the world's most important and loved novelists, Atwood was a poet. Dearly is her first collection in over a decade. It brings together many of her most recognizable and celebrated themes, but distilled – from minutely perfect descriptions of the natural world to startlingly witty encounters with aliens, from pressing political issues to myth and legend. It is a pure Atwood delight, and long-term readers and new fans alike will treasure its insight, empathy and humour.
About Harry Vandervlist
A much younger Harry Vandervlist ditched his university studies to go hitchhiking in France. When he found himself turning 20 while sleeping in a Paris bookstore and studying French at the reference library, he got the message that the world of books wasn't done with him yet. So it was back to York U. and eventually to the University of Calgary's English department where he taught from 1991 to 2018. He edited Banff poet Jon Whyte's collected work and was involved for many years with the Banff Mountain Book Festival. His writing has appeared in Alberta Views Magazine, Avenue, Swerve, Fast Forward Weekly, Quill and Quire, The Globe and Mail and elsewhere. In 2001 he was a finalist for a National Magazine Award for his piece "Maison Sweet Maison in" Avenue, and in 2007 received a Western Magazine Award for "The MacLeod Trail Expedition: A Tale of Folly and Endurance" in Swerve Magazine. For many years he has spent as much time as possible in France – except, of course, in 2020.
Buy Their Books
Word Problems
Owl's Nest Books | Shelf Life Books
Dearly (preorder before Nov. 10)
Owl's Nest Books | Shelf Life Books
Buy Their Recommended Books
To continue with the generosity that is at the heart of the Daisy Chain concept – and help promote the work of authors whose book events have been affected by COVID-19 – we asked the 25@25 authors to highlight a book published in 2020 that they would encourage you to read. These books will be available at Owl's Nest and Shelf Life in Calgary. If you buy five or more of the 25@25 authors' featured books (either their current title or their backlist) or their recommended books, you will receive a 25% discount. Please contact the booksellers for more details about the discount.
Buy Margaret Atwood's Recommended Book: The Uninhabitable Earth: Life After Warming by David Wallace-Wells
"Basically, unless we preserve a biosphere that we can live in as a species, all of these other questions will be meaningless because there won't be any people. So I hate to be blunt about that, but if you need any convincing, this is the book."
Owl's Nest Books | Shelf Life Books
Buy Ian Williams' Recommended Book: The Tower by Paul Legault
"Paul Legault's The Tower re-imagines Yeats's poetry collection of the same title. He maintains the titles, the poem lengths, the sequence, but updates Yeats in a way that would make his head spin. It's a distinctive, enjoyable, contemporary, smart, ambitious collection."
Curiouser?
Articles: