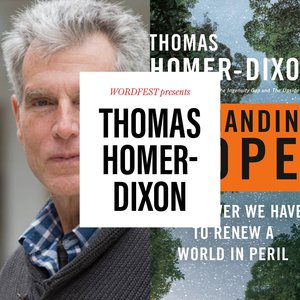 Wordfest presents Thomas Homer-Dixon
Sep 10 @ 7 PM - 7:45 PM MT
Online

Join us for timely online conversation with bestselling author and public intellectual Thomas Homer-Dixon, whose new book, Commanding Hope: The Power We Have to Renew a World in Peril lays out the tools we can command to rescue a world on the brink.
Calling on history, cutting-edge research, complexity science, and even The Lord of the Rings, Commanding Hope marshals a fascinating, accessible argument for reinvigorating our cognitive strengths and belief systems to affect urgent systemic change, strengthen our economies and cultures, and renew our hope in a positive future for everyone on Earth.
The 45-minute conversation, hosted by Zain Velji, will start at 7:00 PM MT on Wordfest.com. (The pre-show will begin at 6:50 PM MT.) 
This live stream event is free but if you RSVP, we'll send you a reminder along with easy instructions to help you get set up, as well as our unique Digital Doggie Bag after the event with all the links, goodies and references from the conversation.
We are grateful to Penguin Random House Canada for making this event possible. Here are direct links to Calgary booksellers carrying Commanding Hope:
Owl's Nest Books | Shelf Life Books
Commanding Hope: The Power We Have to Renew a World in Peril  
For three decades, Thomas Homer-Dixon, the renowned author of The Upside of Down: Catastrophe, Creativity, and the Renewal of Civilization, and The Ingenuity Gap: Can We Solve the Problems of the Future? has examined the threats to our future security – predicting a deteriorating global environment, extreme economic stresses, mass migrations, social instability and wide political violence if humankind continued on its current course. He was called The Doom Meister, but we now see how prescient he was. 

Today just about everything we've known and relied on (our natural environment, economy, societies, cultures, and institutions) is changing dramatically--too often for the worse. Without radical new approaches, our planet will become unrecognizable as well as poorer, more violent, more authoritarian.

In his fascinating long-awaited new book (dedicated to his young children), he calls on his extraordinary knowledge of complexity science, of how societies work and can evolve, and of our capacity to handle threats, to show that we can shift human civilization onto a decisively new path if we mobilize our minds, spirits, imaginations, and collective values. 
About Thomas Homer-Dixon
Thomas Homer-Dixon, or "Tad" as he is known to his friends and colleagues, holds a University Research Chair in the Faculty of Environment at the University of Waterloo, and is Director of the Cascade Institute at Royal Roads University, British Columbia. He received his Ph.D. from M.I.T. in international relations, defense and arms control policy, and conflict theory. His writing has appeared in Foreign Policy, Foreign Affairs, Scientific American, the Washington Post, The New York Times, Financial Times, and The Globe and Mail. Homer-Dixon is the author of the Governor-General's Literary Award-winning national bestseller The Ingenuity Gap, as well as the National Business Book Award-winning The Upside of Down.
About Host Zain Velji
As Partner and  VP Strategy for Northweather, Zain brings a decade of experience in political, business, and non-profit communications, as well as marketing and engagement. Zain is a frequent public speaker and regular political commentator who appears weekly on CBC radio and television and co-hosting the 2019 federal election for CTV. In addition, Zain chairs the board of The Canadian Children's Book Centre, serves on the board of the YMCA Calgary, and the Education and Lifelong learning committee of the Calgary Foundation. Zain's writing has been published by the Toronto Star, Globe and Mail, Christian Science Monitor, and The National Post. He was named one of Calgary's Top 40 under 40 by Avenue Magazine and one of the top 50 political thinkers in Canada by the Hill Times.
Curiouser?
Articles:
Opinion: Coronavirus will change the world. It might also lead to a better future – The Globe and Mail
"Thomas Homer-Dixon cuts through the doom and offers a path to hope with new book" – Calgary Herald
Excerpt: "Thomas Homer-Dixon has written a book for those who choose to fight" – The Star