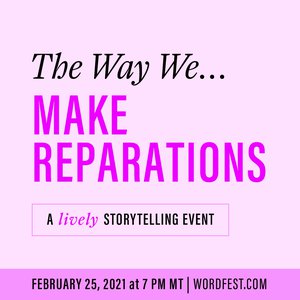 Wordfest presents The Way We Make Reparations
Feb 25 @ 7 PM - 8 PM MT
Online

As Wordfest's contribution to sparking deep, empathetic, necessary discussions during Black History Month, the theme of our lively February storytelling event is Reparations. We are thrilled to be presenting three writers and activists whose bestselling books are essential reads for anyone who is committed to work of being anti-racist: Koa Beck, Desmond Cole, and Frederick Joseph. Each writer will perform an open-mic style monologue on the theme of reparation. As a special Calgary connection, junior-high students at St. Margaret School submitted questions that we'll be asking the writers in the interview portion of the event.
Definition of Reparation (from the Merriam-Webster Dictionary)
1a: a repairing or keeping in repair
2a: the act of making amends, offering expiation, or giving satisfaction for a wrong or injury 
2b: something done or given as amends or satisfaction
3: the payment of damages  
The hour-long Imagine On Air event airs at 7:00 p.m. MT and will be hosted by Shelley Youngblut, Wordfest's CEO and Creative Ringleader. (The pre-show starts at 6:50 p.m. MT.) The broadcast on Wordfest.com is free, and if you RSVP, we'll send you a reminder, as well as our unique Digital Doggie Bag with links and references from the conversation after the event.
We are grateful to Candlewick Press, Simon & Schuster Canada, and Penguin Random House Canada for helping us connect you with these galvanizing voices.
THE STORYTELLERS
About Koa Beck
Koa Beck is the former editor-in-chief of Jezebel. Previously, she was the executive editor at Vogue and cohost of "The #MeToo Memos" on WNYC's The Takeaway. Her writing has appeared in The Atlantic, The New York Observer, The Guardian, and Esquire, among others. For her reporting prowess, she has been interviewed by the BBC and has appeared on many panels about gender and identity at the Harvard Kennedy School at Harvard University, the Metropolitan Museum of Art, the Brooklyn Historical Society, and Columbia Journalism School to name a few. She lives in Los Angeles. Follow her on Twitter @Koalani and Instagram @koabeck.
About White Feminism
"Intellectually smart and emotionally intelligent, Beck brilliantly articulates how feminism has failed women of color and non-binary people. She illuminates the broad landscapes of systemic oppression and demands that white feminism evolve lest it continue to be as oppressive as the patriarchy." – Patrisse Khan-Cullors, cofounder of Black Lives Matter, New York Times bestselling author of When They Call You a Terrorist, and joint recipient of the Sydney Peace Prize
Join the important conversation about race, empowerment, and inclusion in the United States with this powerful new feminist classic and rousing call for change. Koa Beck, writer and former editor-in-chief of Jezebel, boldly examines the history of feminism, from the true mission of the suffragettes to the rise of corporate feminism with clear-eyed scrutiny and meticulous detail. She also examines overlooked communities—including Native American, Muslim, transgender, and more — and their difficult and ongoing struggles for social change.

In these pages she meticulously documents how elitism and racial prejudice has driven the narrative of feminist discourse. She blends pop culture, primary historical research, and first-hand storytelling to show us how we have shut women out of the movement, and what we can do to course correct for a new generation — perfect for women of colour looking for a more inclusive way to fight for women's rights.

Combining a scholar's understanding with hard data and razor-sharp cultural commentary, White Feminism is a witty, whip-smart, and profoundly eye-opening book that challenges long-accepted conventions and completely upends the way we understand the struggle for women's equality.
About Desmond Cole
Desmond Cole is a journalist, activist, and author. He has spent the last 10 years reporting and commentating on politics and social justice. He is especially interested in the struggle for Black liberation within Canada. Desmond's work includes ten years of local and national news coverage, five years of radio broadcasting at Newstalk 1010, a disruptive opinion column with the Toronto Star and an award-winning magazine feature. He is the author of the No. 1 national bestseller The Skin We're In: A Year of Black Resistance and Power. Follow him on Twitter @DesmondCole.
About The Skin We're In: A Year of Black Resistance and Power
2020's #1 BEST-SELLING NON-FICTION BOOK IN CANADA
WINNER OF THE 2020 TORONTO BOOK AWARD
"The sheer strength of this book arises from its insistent linking of policing, prisons, public education, migrant labour, impoverished neighbourhoods and the fates of refugees. The Skin We're In is about the interlocking forces besieging Black life in Canada; and it is also about organizing resistance and imagining futures in bravely intimate terms. Desmond Cole is an urgent and essential voice from a generation that will be heard." —David Chariandy, author of Brother and I've Been Meaning to Tell You: A Letter to My Daughter
In his 2015 cover story for Toronto Life magazine, Desmond Cole exposed the racist actions of the Toronto police force, detailing the dozens of times he had been stopped and interrogated under the controversial practice of carding. The story quickly came to national prominence, shaking the country to its core and catapulting its author into the public sphere. Cole used his newfound profile to draw insistent, unyielding attention to the injustices faced by Black Canadians on a daily basis.
 
Both Cole's activism and journalism find vibrant expression in his first book, The Skin We're In. Puncturing the bubble of Canadian smugness and naïve assumptions of a post-racial nation, Cole chronicles just one year — 2017 — in the struggle against racism in this country. It was a year that saw calls for tighter borders when Black refugees braved frigid temperatures to cross into Manitoba from the States, Indigenous land and water protectors resisting the celebration of Canada's 150th birthday, police across the country rallying around an officer accused of murder, and more.
The year also witnessed the profound personal and professional ramifications of Cole's unwavering determination to combat injustice. In April, Cole disrupted a Toronto police board meeting by calling for the destruction of all data collected through carding. Following the protest, Cole, a columnist with the Toronto Star, was summoned to a meeting with the paper's opinions editor and informed that his activism violated company policy. Rather than limit his efforts defending Black lives, Cole chose to sever his relationship with the publication. Then in July, at another police board meeting, Cole challenged the board to respond to accusations of a police cover-up in the brutal beating of Dafonte Miller by an off-duty police officer and his brother. When Cole refused to leave the meeting until the question was publicly addressed, he was arrested. The image of Cole walking out of the meeting, handcuffed and flanked by officers, fortified the distrust between the city's Black community and its police force.
 
Month-by-month, Cole creates a comprehensive picture of entrenched, systemic inequality. Urgent, controversial, and unsparingly honest, The Skin We're In has become a vital text for anti-racist and social justice movements in Canada, as well as a potent antidote to the all-too-present complacency of many white Canadians.  
About Frederick Joseph
Frederick Joseph is an award-winning marketing professional, media representation advocate, activist, and philanthropist who was recently selected for the Forbes 30 Under 30 list. He is also the creator of the largest GoFundMe campaign in history, the #BlackPantherChallenge, which ultimately generated over $43 million dollars in earned advertising and media for Disney and raised over $950K and enabled more than 75,000 children worldwide to see Black Panther for free. Joseph then created the largest individual Covid-19 support effort, the #RentRelief campaign, which has raised over $2 million dollars. He was also a national surrogate for the Elizabeth Warren and Bernie Sanders campaigns. Joseph is the recipient of the 2018 Bob Clampett Humanitarian Award, given by Comic-Con International: San Diego, and was selected for the 2018 Root 100 List of Most Influential African Americans. Joseph lives in New York City. Follow him on Twitter and Instagram @fredtjoseph
About The Black Friend: On Being A Better White Person
"The Black Friend is THE book everyone needs to read right now. Frederick Joseph has written an essential window into the movement towards anti-racism. Read, it absorb it, and be changed because of it." – Angie Thomas, author of The Hate U Give
The instant New York Times bestseller!

Writing from the perspective of a friend, Frederick Joseph offers candid reflections on his own experiences with racism and conversations with prominent artists and activists about theirs—creating an essential read for white people who are committed anti-racists and those newly come to the cause of racial justice.

"We don't see color." "I didn't know Black people liked Star Wars!" "What hood are you from?" For Frederick Joseph, life as a transfer student in a largely white high school was full of wince-worthy moments that he often simply let go. As he grew older, however, he saw these as missed opportunities not only to stand up for himself, but to spread awareness to those white people who didn't see the negative impact they were having.

Speaking directly to the reader, The Black Friend calls up race-related anecdotes from the author's past, weaving in his thoughts on why they were hurtful and how he might handle things differently now. Each chapter features the voice of at least one artist or activist, including Angie Thomas, author of The Hate U Give; April Reign, creator of #OscarsSoWhite; Jemele Hill, sports journalist and podcast host; and eleven others. Touching on everything from cultural appropriation to power dynamics, "reverse racism" to white privilege, microaggressions to the tragic results of overt racism, this book serves as conversation starter, tool kit, and invaluable window into the life of a former "token Black kid" who now presents himself as the friend many readers need. Backmatter includes an encyclopedia of racism, providing details on relevant historical events, terminology, and more.
Buy the Books
White Feminism
Owl's Nest Books | Shelf Life Books
The Skin We're In
Owl's Nest Books | Shelf Life Books
The Black Friend: On Being a Better White Person
Owl's Nest Books | Shelf Life Books
Borrow the Book from the Library:
White Feminism
The Skin We're In
The Black Friend: On Being a Better White Person
Curiouser?
Articles:
Watch:
The Skin We're In: Pulling back the curtain on racism in Canada –CBCdocsPOV