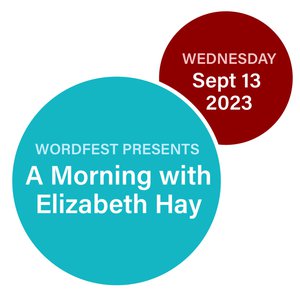 A Morning with Elizabeth Hay
Sep 13 @ 9:30 AM - 10:30 AM MT
Memorial Park Library, 2nd Floor
1221 2 St SW
Oh, what a treat! Wordfest is delighted to be able to offer Elizabeth Hay's avid Calgary readers the rare opportunity to spend an intimate morning with the celebrated author, delving deeper into her work, her creative process, and the ideas that have captured her brilliant imagination. The 60-minute conversation starts at 9:30 AM MT and will include audience questions and a book signing. Owl's Next Books will also be on site with copies of her newest novel, Snow Station Road, and samples from her extensive backlist.  
We are grateful to the Canada Council for the Arts for making it possible for you to have this unique experience with Elizabeth Hay. 
About Snow Road Station
An exquisitely etched coming-of-middle-age story." –Ann-Marie MacDonald
From the Scotiabank Giller Prize-winning author comes a novel, witty and wise, about thwarted ambition, unrealized dreams, the enduring bonds of female friendship, and love's capacity to surprise us at any age.
In the winter of 2008, as snow falls without interruption, an actor in a Beckett play blanks on her lines. Fleeing the theatre, she beats a retreat into her past and arrives at Snow Road Station, a barely discernible dot on the map of Ontario.

The actor is Lulu Blake, in her 60s now, a sexy, seemingly unfooled woman well-versed in taking risks. Out of work, humiliated, she enters the last act of her life wondering what she can make of her diminished self. In Snow Road Station, she decides she is through with drama, but drama, it turns out, isn't through with her. She thinks she wants peace. It turns out she wants more.

Looming in the background is that autumn's global financial meltdown, while in the foreground family and friends animate a round of weddings, sap harvests, love affairs, and personal turmoil. At the centre of it all is the lifelong friendship between Lulu and Nan. As the two women contemplate growing old, they surrender certain hard-held dreams and confront the limits of the choices they've made and the messy feelings that kept them apart for decades.
About Elizabeth Hay
Elizabeth Hay is the Scotiabank Giller Prize-winning author of six novels, including Late Nights on Air, His Whole Life, and A Student of Weather. Her memoir All Things Consoled won the Hilary Weston Writers' Trust Prize for Nonfiction; and her story collection Small Change was shortlisted for the Governor General's Literary Award for Fiction. A former radio broadcaster, she spent a number of years in Mexico and New York City and makes her home in Ottawa.