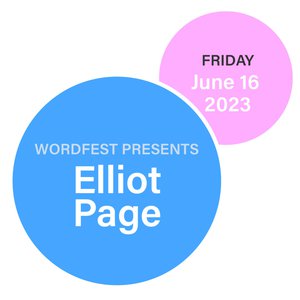 Wordfest Presents Elliot Page Watch Party
Jun 16 @ 5 PM - 6:15 PM MT
Memorial Park Library, 2nd Floor
1221 2 St SW
Join Wordfest for a special Watch Party with one of Canada's most compelling actors, Elliot Page to showcase his revealing new memoir, Pageboy. This conversation – live streamed from TIFF in Toronto – is Page's only Canadian appearance and will begin right at 5 PM MT (doors open at 4 PM MT, with Happy Hour beverages available at our Libations Bar). Shelf Life Books will be providing copies of Pageboy for purchase. 
In lieu of admission, when you register, please consider making a donation to Skipping Stone, a local non-profit that connects trans and gender diverse youth, adults, and families with comprehensive and low barrier access to the support they need and deserve.
We are grateful to HarperCollins Canada for making it possible for us to connect you with Elliot Page.
About Pageboy: A Memoir
The Oscar-nominated star who captivated the world with his performance in Juno finally shares his truth.
"Can I kiss you?" It was two months before the world premiere of Juno, and Elliot Page was in his first ever queer bar. The hot summer air hung heavy around him as he looked at her. And then it happened. In front of everyone. A previously unfathomable experience. Here he was on the precipice of discovering himself as a queer person, as a trans person. Getting closer to his desires, his dreams, himself, without the repression he'd carried for so long. But for Elliot, two steps forward had always come with one step back.
With Juno's massive success, Page became one of the world's most beloved actors. His dreams were coming true, but the pressure to perform suffocated him. He was forced to play the part of the glossy young starlet, a role that made his skin crawl, on and off set. The career that had been an escape out of his reality and into a world of imagination was suddenly a nightmare.
As he navigated criticism and abuse from some of the most powerful people in Hollywood, a past that snapped at his heels, and a society dead set on forcing him into a binary, Page often stayed silent, unsure of what to do, until enough was enough. Full of behind the scenes details and intimate interrogations on sex, love, trauma, and Hollywood, Pageboy is the story of a life pushed to the brink. But at its core, this beautifully written, winding journey of what it means to untangle ourselves from the expectations of others is an ode to stepping into who we truly are with defiance, strength, and joy.
About Elliot Page
Elliot Page is an Academy Award–nominated actor, a producer, and a director who currently stars in the hit series The Umbrella Academy.
About Skipping Stone
Skipping Stone connects trans and gender diverse youth, adults and families in the province of Alberta with low-barrier access to the supports and services that they need and deserve including community and social based supports as well as mental health and medical services.

Their innovative, one-of-a-kind, comprehensive care model is leading the way when it comes to providing affirming, inclusive and whole-person focused support for which it has attracted national and international attention and acclaim.

Since their founding in 2018, they have connected with and changed the lives over 10,000 youth, adults and families across the province.