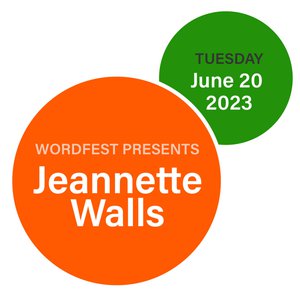 Wordfest Presents Jeannette Walls
Jeannette Walls is coming to Calgary! Wordfest has been waiting to make this announcement for a decade, ever since the historic flood prevented her from appearing in 2013. The legendary storyteller will be celebrating the release of her latest bestseller, the novel Hang the Moon. The conversation, hosted by Wordfest CEO & Creative Ringleader Shelley Youngblut, starts at 7:00 PM MT and will be followed by an audience Q&A and book signing, fuelled by Owl's Nest Books. You can also pick up Wordfest's new Signature Tote and have it signed along with your collection of Walls' classics.
We are grateful to Simon & Schuster Canada for making it possible for Wordfest to connect you with this creative force.
About Hang the Moon
From Jeannette Walls, the #1 New York Times bestselling author of The Glass Castle, comes a riveting new novel about an indomitable young woman in Virginia during Prohibition.
Most folk thought Sallie Kincaid was a nobody who'd amount to nothing. Sallie had other plans.
Sallie Kincaid is the daughter of the biggest man in a small town, the charismatic Duke Kincaid. Born at the turn of the 20th century into a life of comfort and privilege, Sallie remembers little about her mother who died in a violent argument with the Duke. By the time she is just eight years old, the Duke has remarried and had a son, Eddie. While Sallie is her father's daughter, sharp-witted and resourceful, Eddie is his mother's son, timid and cerebral. When Sallie tries to teach young Eddie to be more like their father, her daredevil coaching leads to an accident, and Sallie is cast out.
Nine years later, she returns, determined to reclaim her place in the family. That's a lot more complicated than Sallie expected, and she enters a world of conflict and lawlessness. Sallie confronts the secrets and scandals that hide in the shadows of the Big House, navigates the factions in the family and town, and finally comes into her own as a bold, sometimes reckless bootlegger.
You will fall in love with Sallie Kincaid, a feisty and fearless, terrified and damaged young woman who refuses to be corralled.
About Jeannette Walls
Jeannette Walls graduated from Barnard College and was a journalist in New York. Her memoir, The Glass Castle, has been a New York Times bestseller for more than eight years. She is also the author of the instant New York Times bestsellers The Silver Star and Half Broke Horses, which was named one of the 10 best books of 2009 by the editors of The New York Times Book Review. Walls lives in rural Virginia with her husband, the writer John Taylor.
About Host Shelley Youngblut
Shelley Youngblut is the CEO & Creative Ringleader of Wordfest. She was the recipient of the 2020 Calgary Award for Community Achievement in the Arts and the 2018 Rozsa Award for Arts Leadership. She also won the 2008 Lifetime Achievement Award at the Western Magazine Awards. Youngblut was the founding editor of Calgary's award-winning Swerve magazine and has created magazines for ESPN, Seventeen, Cosmopolitan, Nickelodeon, Western Living, and The Globe and Mail. A former pop-culture correspondent for ABC World News Now and Canada AM, she is now a weekly panelist on CBC Radio's Daybreak Alberta. Follow her on Twitter @youngblut and Instagram @youngblutshelley.