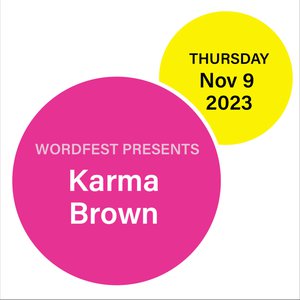 Wordfest Presents Karma Brown
Nov 09 @ 7 PM - 8:15 PM MT $20
Memorial Park Library, 2nd Floor
1221 2 St SW
Wordfest is delighted to showcase bestselling author Karma Brown and her newest novel, What Wild Women Do. The conversation, hosted by Shelley Youngblut, Wordfest's Creative Ringleader, starts at 7PM MT and includes an audience Q & A and book signing, fuelled by Owl's Nest Books.
We are grateful to Penguin Random House Canada for making it possible for Wordfest to connect you with Karma Brown.
About What Wild Women Do
From the #1 internationally bestselling author of Recipe for a Perfect Wife comes a must-read book of the season.
An uplifting celebration of women, and the courage it takes to find one's true self." – Ashley Audrain, New York Times bestselling author of The Push
A 1970s feminist facing the costs of loss and autonomy strives to create a better future for women at her Adirondack camp; meanwhile, an aspiring screenwriter makes a shocking discovery in the present that sets her on a course of rewriting her own story.

Rowan is stuck. Her dreams of becoming a screenwriter are stalled, along with her bank account, as she and her fiancé Seth try to make sense of what's next for them after leaving LA. But when the couple takes a trip to a cabin in the Adirondacks, hoping the change will provide inspiration for Seth's novel-in-progress, Rowan finds herself drawn into a story greater than her own — that of socialite-turned-feminist-crusader Eddie Calloway, who vanished one day in 1975 and was never found or heard from again. In a handbook left behind in the abandoned ruins of a once great camp, Rowan starts to discover clues to what happened to Eddie.

As Rowan delves deeper into the mystery, we meet Eddie herself, a fierce and loving woman whose greatest wish was to host women at her camp and unlock their "wildness." However, Eddie's wild ways aren't welcomed by everyone, and rifts between camp owners threaten her mission. When Rowan gets closer to the truth of Eddie's disappearance, she realizes that it may hold the key to unlocking her own ambition and future.
About Karma Brown
Karma Brown is the author of five novels: the #1 international bestseller Recipe for a Perfect Wife; Come Away with Me (a Globe and Mail Best Book of 2015); Globe and Mail and Toronto Star bestsellers The Choices We Make and In This Moment; and The Life Lucy Knew. She is also the author of The 4% Fix: How One Hour Can Change Your Life. An award-winning journalist, Brown has been published in SELF, Redbook, and Today's Parent, among others. She lives just outside Toronto with her husband, daughter, and a Labradoodle named Fred.
About Host Shelley Youngblut
Shelley Youngblut is the CEO & Creative Ringleader of Wordfest. She was the recipient of the 2020 Calgary Award for Community Achievement in the Arts and the 2018 Rozsa Award for Arts Leadership. She also won the 2008 Lifetime Achievement Award at the Western Magazine Awards. Youngblut was the founding editor of Calgary's award-winning Swerve magazine and has created magazines for ESPN, Seventeen, Cosmopolitan, Nickelodeon, Western Living, and The Globe and Mail. She was also a former pop-culture correspondent for ABC World News Now and Canada AM. Follow her on Facebook @ShelleyYoungblut and Instagram/Threads @youngblutshelley.
Curiouser?
Ontario author Karma Brown's novel explores abandoned Adirondack camp – get first look at What Wild Women Do. -CBC Books