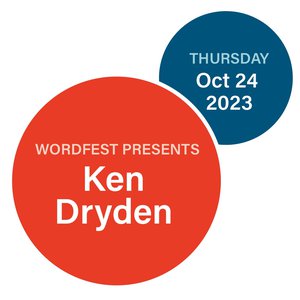 Wordfest Presents Ken Dryden
Oct 24 @ 7 PM - 8:15 PM MT $20
Memorial Park Library, 2nd Floor
1221 2 St SW
The hockey legend returns! Wordfest is thrilled to present bestselling author Ken Dryden in celebration of his newest, most personal book, The Class: A Memoir of a Place, Time, and Us. Echoing the unique insights of Michael Apted's 21 Up documentary series, Dryden brings his trademark keen eye, penetrating intelligence, and profound empathy to his own special group of childhood classmates. The conversation, hosted by Wordfest CEO & Creative Ringleader Shelley Youngblut, starts at 7PM MT and includes an audience Q & A and book signing, fueled by Owl's Nest Books.
We are grateful to Penguin Random House Canada for making it possible for Wordfest to connect you with Ken Dryden.
About The Class: A Memoir of a Place, Time, and Us
When almost anything seems within reach, what do we reach for?
On Tuesday, September 6, 1960, the day after Labour Day, class 9G at Etobicoke Collegiate Institute in a suburb of Toronto assembled for the first time. Its 35 students, having written special exams, came to be known as the "Selected Class."

They would stay together through high school, with few exceptions. They would spend more than two hundred days a year together. Few had known each other before. Few have been in other than accidental contact in all the decades since.

Their ancestors were almost all from working-class backgrounds. Their parents had lived their formative years through depression and war. They themselves were born into a postwar world of new homes, new schools, new churches. New suburbs. Of new classes like this one. Of boundless possibilities.

Ken Dryden was one of these 35. In his varied, improbable life, he had wondered often how he had gotten from there to here. How any of us do. He decided to try and find his classmates, to see how they are, what they are doing, how life has been for them. They talked many long hours, in a way they had never talked before. Most had married, some divorced, most have kids, many have grandkids.

This is the story of a place, a time, and so much more.
About Ken Dryden
Ken Dryden was a goalie for the Montreal Canadiens in the 1970s, during which time the team won six Stanley Cups. He also played for Team Canada in the 1972 Summit Series. He has been inducted into the Hockey Hall of Fame and the Canadian Sports Hall of Fame. He is a former federal member of parliament and cabinet minister, and is the author of six books, including The Game, Home Game (with Roy MacGregor), and Game Change. He and his wife, Lynda, live in Toronto and have two children and four grandchildren.
About Host Shelley Youngblut
Shelley Youngblut is the CEO & Creative Ringleader of Wordfest. She was the recipient of the 2020 Calgary Award for Community Achievement in the Arts and the 2018 Rozsa Award for Arts Leadership. She also won the 2008 Lifetime Achievement Award at the Western Magazine Awards. Youngblut was the founding editor of Calgary's award-winning Swerve magazine and has created magazines for ESPN, Seventeen, Cosmopolitan, Nickelodeon, Western Living, and The Globe and Mail. She was also a former pop-culture correspondent for ABC World News Now and Canada AM. Follow her on Facebook @ShelleyYoungblut and Instagram/Threads @youngblutshelley.