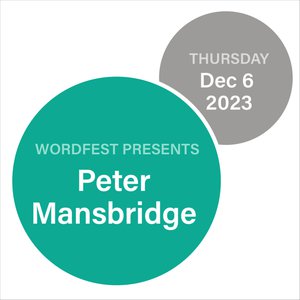 Wordfest Presents Peter Mansbridge
Dec 06 @ 7 PM - 8:15 PM MT $20
Patricia A. Whelan Performance Hall, Central Library
800 3 Street SE
What a pleasure to welcome legendary broadcast journalist Peter Mansbridge back to Calgary, in celebration of his newest book (written with Mark Bulgutch): How Canada Works. The conversation starts at 7PM MT and will be followed by an audience Q & A and book signing, fuelled by Indigo Chinook.
We are grateful to Simon & Schuster Canada for making it possible to connect you with Peter Mansbridge.
About How Canada Works
From #1 bestselling authors Peter Mansbridge and Mark Bulgutch comes a new book of first-person stories about the unique people and professions that make Canada work.

In this latest collection of personal stories, Peter Mansbridge and former CBC producer Mark Bulgutch shine a light on the everyday jobs that keep our nation running and the inspiring people who perform them with empathy and kindness.

Meet the 911 operator in British Columbia who sends help to callers in crisis and stays on the line, steadying them as they wait. Hear from the chief of the Neskantaga First Nation in northern Ontario, who sacrifices his personal time to fight for better resources for his community, which has had a boil water advisory since the mid-1990s. From the air traffic controller who ensures people get to where they need to go, to the midwife in Saskatchewan who guides families through pregnancy and the birthing process, these are the jobs that connect Canadians on both a logistical and personal level.

Though Canada is still very much a work in progress, this enlightening book celebrates how we are greater than the sum of our parts by championing the people that make our country great.
About Peter Mansbridge
Peter Mansbridge is one of Canada's most respected journalists. He is the former chief correspondent for CBC News; anchor of The National, CBC's flagship nightly newscast where he worked for three decades reporting on national and international news stories; and host of Mansbridge One on One. He has received more than a dozen national awards for broadcast excellence, including a lifetime achievement award from the Academy of Canadian Cinema & Television.
Mansbridge is a distinguished fellow of the Munk School of Global Affairs & Public Policy at the University of Toronto and the former two-term chancellor of Mount Allison University. In 2008, he was made an Officer of the Order of Canada and, in 2012, he was awarded the Queen Elizabeth II Diamond Jubilee Medal. He is the author of the instant #1 national bestsellers Off the Record and Extraordinary Canadians, as well as the national bestseller Peter Mansbridge One on One: Favourite Conversations and the Stories Behind Them. He lives in Stratford, Ontario. Visit him at ThePeterMansbridge.com, or listen to his daily podcast, The Bridge, with Sirius XM Canada.
About Co-Author Mark Bulgutch  
Mark Bulgutch is a journalist, educator, speaker, and the author of the instant #1 national bestseller Extraordinary Canadians and three other books. He worked for CBC for 40 years, 11 as the senior editor of The National and another 10 as senior executive producer of all live news specials. He taught at Toronto Metropolitan University for 35 years. A regular contributor of opinion columns to The Toronto Star, Bulgutch has won 14 Gemini Awards, four RTDNA Awards, the Canadian Journalism Foundation Award of Excellence, and the Canadian Association of Broadcasters Gold Ribbon Award. He lives in Toronto.