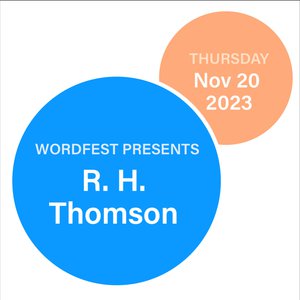 Wordfest Presents R. H. Thomson
Nov 20 @ 7 PM - 8:15 PM MT $20
Memorial Park Library, 2nd Floor
1221 2 St SW
Wordfest presents beloved Canadian actor and arts advocate R. H. Thomson with his very personal look at war and its aftermath, By The Ghost Light: Wars, Memory, and Families. The conversation starts at 7PM MT and will be hosted by choreographer/theatre artist Denise Clarke, co-founder of Calgary's One Yellow Rabbit Performance Theatre. This special event includes an audience Q & A and book signing, fuelled by Owl's Nest Books.
We are grateful to Penguin Random House Canada for making it possible to connect you with R. H. Thomson.
About By the Ghost Light: Wars, Memory, and Families
From one of Canada's most beloved performing artists comes an audacious work of non-fiction that explores the stories that shape us and the reach that the past can have across generations.

Growing up north of Toronto, R.H. Thomson's imagination was captured by romantic notions of war. He spent his days playing with toy soldiers on the carpet of his grandmother's house, recreating the Battle of Britain with model planes in his bedroom, or sitting at the local theatre watching World War II B movies – ones that offered a very clear perspective on who were the heroes and who the villains; which side were the victors and which the vanquished.
Yet Thomson's childhood was also shaped by the spirits of real-life warriors in his family, their fates a brutal and more complicated reminder of the true human cost of war. Eight of Robert's great uncles – George, Joe, Jack, Harold, Arthur, Warren, Wildy, and Fred – fought in the First World War, while his great Aunt Margaret served as a wartime surgical nurse in Europe. Five of the great uncles – George, Joe, Fred, Wildy, and Warren – were killed in battle while two others – Jack and Harold – would return home greatly diminished, spending the rest of their lives in and out of sanitariums, their lungs scarred by disease and poison gas. Throughout their lives, the great uncles, as well as great aunts and cousins, were faithful letter writers, their correspondence offering profound insights into their experiences on the front lines to their loved ones back home, a somber record of the sacrifice the family paid.
In By the Ghost Light, Thomson offers an extraordinary look at his family's history while providing a powerful examination of how we understand war and its aftermath. Using his family letters as a starting point, Thomson roams through a century of folly, touching on areas of military history, art, literature, and science, to express the tragic human cost of war behind the order and calm of ceremonial parades, memorials, and monuments. In an urgent call for new ways to acknowledge the dead, R.H. has created "The World Remembers," an ambitious international project to individually name each of the millions killed in the First World War.
Epic in its scope and incredibly intimate in its exploration of lives touched by the tragedy of war, By the Ghost Light is a truly original book that will challenge the way we approach our history.
About R. H. Thomson
R. H. Thomson has appeared in film and theatre across Canada, as Matthew Cuthbert in Anne With An E; in the movie Chloe directed by Atom Egoyan; as Marshall McLuhan in The Message by Jason Sherman; and in This Was The World by Ellie Moon. As well as being an advocate for the arts, he has worked on many history/arts projects. For the First World War Centenary, he built The World Remembers-Le Monde Se Souvient, an international commemoration exhibit now installed at the Canadian War Museum. He is a Member of the Order of Canada and was awarded the Governor General's Performing Arts Award for Lifetime Artistic Achievement.
About Host Denise Clarke  
Denise Clarke is a choreographer/theatre artist working in Calgary and the Associate Artist of the One Yellow Rabbit Theatre Ensemble, where several of her plays have been produced: including Breeder, So Low, Permission, Featherland, Sign Language, Heavens to Murgatroid, A Fabulous Disaster, Smash Cut Freeze, Wag and Room 333. In 2018 she wrote The Big Secret Book, An Intense Guide to Creating Performance Theatre.
Clarke has also choreographed for Theatre Calgary, The Citadel Theatre, Vancouver and Calgary Operas, the Canadian Opera Company, The Shaw Festival, and Canadian Stage and directed several productions outside of her work with One Yellow Rabbit. Her numerous awards include the Alberta Lieutenant Governor General Distinguished Artist Award and The Calgary Mayor's Distinguished Artist Award. Clarke is a Member of the Order of Canada and received an Honorary Doctorate from the University of Calgary in 2013.