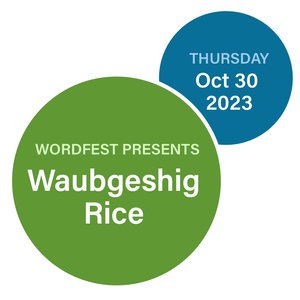 Wordfest Presents Waubgeshig Rice
Oct 30 @ 7 PM - 8:15 PM MT $20
Memorial Park Library, 2nd Floor
1221 2 St SW
Wordfest presents Waubgeshig Rice and his hotly anticipated new novel, Moon of the Turning Leaves, the sequel to his award-winning bestseller, Moon of the Crusted Snow. The conversation starts at 7PM MT and includes an audience Q & A and book signing, fuelled by Shelf Life Books.
We are grateful to Penguin Random House Canada for making it possible to connect you with Waubgeshig Rice.
About Moon of the Turning Leaves
An epic journey into the future, powerfully haunting." –Silvia Moreno-Garcia, bestselling author of Mexican Gothic
Twelve years after the lights go out... an epic journey to a forgotten homeland.

It's been more than a decade since a mysterious cataclysm caused a permanent blackout that toppled infrastructure and thrust the world into anarchy. Evan Whitesky led his community in remote northern Ontario off the rez and into the bush, where they've been living off the land, rekindling their Anishinaabe traditions in total isolation from the outside world. As new generations are born, and others come of age in the world after everything, Evan's people are in some ways stronger than ever. But resources in and around their new settlement are beginning to dry up, and the elders warn that they cannot afford to stay indefinitely.
Evan and his 15-year-old daughter, Nangohns, are elected to lead a small scouting party on a months-long trip to their traditional home on the north shore of Lake Huron – to seek new beginnings and discover what kind of life – and what dangers – still exist in the lands to the south.
Moon of the Turning Leaves is Waubgeshig Rice's exhilarating return to the world first explored in the phenomenal breakout bestseller Moon of the Crusted Snow: a brooding story of survival, resilience, Indigenous identity, and rebirth.
About Waubgeshig Rice
Waubgeshig Rice grew up in Wasauksing First Nation on the shores of Georgian Bay, in the southeast of Robinson-Huron Treaty territory. He's a writer, listener, speaker, language learner, and a martial artist, holding a brown belt in Brazilian Jiu-Jitsu. He is the author of the short story collection Midnight Sweatlodge (2011), and the novels Legacy (2014) and Moon of the Crusted Snow (2018). He appreciates loud music and the four seasons. He lives in N'Swakamok – also known as Sudbury, Ontario – with his wife and three sons.
Follow him on Facebook @WaubgeshigRice and Instagram/Threads @waub.
About Host Shelley Youngblut
Shelley Youngblut is the CEO & Creative Ringleader of Wordfest. She was the recipient of the 2020 Calgary Award for Community Achievement in the Arts and the 2018 Rozsa Award for Arts Leadership. She also won the 2008 Lifetime Achievement Award at the Western Magazine Awards. Youngblut was the founding editor of Calgary's award-winning Swerve magazine and has created magazines for ESPN, Seventeen, Cosmopolitan, Nickelodeon, Western Living, and The Globe and Mail. She was also a former pop-culture correspondent for ABC World News Now and Canada AM. Follow her on Facebook @ShelleyYoungblut and Instagram/Threads @youngblutshelley.