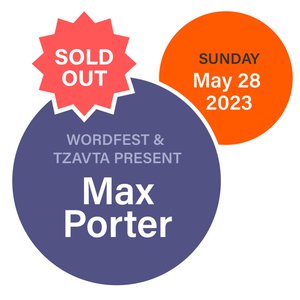 Wordfest & Tzavta Present Max Porter
[SOLD OUT]
As part of our ongoing collaboration with Wordfest, Sidewalk Citizen is excited to announce our next Tzavta Salon features award-winning British novelist Max Porter, on tour with his highly anticipated new novel, SHY.
Described as "the supreme word alchemist," Porter is beloved by the world's tastiest writers, including Maggie O'Farrell, Ocean Vuong, and Nick Hornby. The Believer's Heidi Julavits raved about Porter's 2016 debut novel Grief is the Thing with Feathers as "less a novel than a totally new and feathered thing – hilarious, poetic, cheeky, postmodern, I guess, but in the most earnest and emotionally forthright way. I was as gripped as I was stunned by Porter's linguistic daredevilry, his intelligence, his emotional go-for-the-gut-ness."
The Tzavta Cultural Dinner Salon experience includes a multi-course dinner, created in Porter's honour by Park chef Stephan Gusztak, followed by conversation, a Q&A (hosted by Wordfest Creative Ringleader Shelley Youngblut) and book signing. Doors open at 5:30 PM MT.
Your ticket comes with a coveted copy of SHY, already a Sunday Times Number One bestseller. Says Ian Rankin, "SHY is the strangest, most beguiling and affecting of all his books." Raves singer-songwriter PJ Harvey, "SHY took me straight back to my teen-self, all her buck-toothed strangenesses and shyness, and made me want to hold her a little bit closer."
We are grateful to Strange Light/Penguin Random House Canada for making it possible for us to connect you with Booker Prize long-listed author Max Porter.
About SHY
Max Porter has a way of writing unlike anyone else. I loved SHY. I finished it elated and tearful, joyful and terrified, changed by the journey. It moved me and surprised me and that is what I look for in my favourite artists." –PJ Harvey
In a dilapidated mansion, in the middle of the night, a young man is considering what could be his final decision in this world.

The rucksack is shockingly heavy.
The floorboards complain.
He checks again, the spliff is diagonal-snug in the empty Embassy box.
The daytime check is a half-dream away.
The room is molten soft. Tempting.
Jumpy.
The rucksack is shockingly heavy.
It's 3:13 a.m.

Shy. A troubled teen, a "dangerous young man," a reject from the social structures that no longer wish to nurture him. Shy knows that society has not failed him, he has failed it parents, schooling, friends, and sometime girlfriends. Judged and found wanting, he now lives at Last Chance, a boarding school for boys like him.
Set over a few hours of a single evening, Shy exists between the stillness and beauty of a nocturne and the exhilarating shout of simultaneous teenage joy and anguish. With leaps of linguistic brilliance and wild energy, this is an utterly immersive novel in its authenticity and heart-breaking honesty. As with all Porter's writing, the darkness is indivisible from a core of humour and humanity. It is his greatest feat of empathy yet.
About Max Porter
Max Porter is one of my favourite writers in the world. Why? Because he's always asking the most important questions and then finding answers – through innovative structures and that inimitable voice – of answering those questions soulfully, with his full attention, in ways that make the world seem stranger and more dear (or more dear because stranger). He gives his readers bursts of a new vision." –George Saunders, who participated in Tzavta #13
Max Porter is the author of The Death of Francis Bacon, Lanny, longlisted for the Booker Prize, and Grief Is the Thing with Feathers, winner of the International Dylan Thomas Prize and shortlisted for the Guardian First Book Award and the Goldsmiths Prize. He is the recipient of the Sunday Times/Peter, Fraser + Dunlop Young Writer of the Year award.
Website: https://www.maxporter.co.uk/
About Host Shelley Youngblut
Shelley Youngblut is the CEO & Creative Ringleader of Wordfest. She was the recipient of the 2020 Calgary Award for Community Achievement in the Arts and the 2018 Rozsa Award for Arts Leadership. She also won the 2008 Lifetime Achievement Award at the Western Magazine Awards. Youngblut was the founding editor of Calgary's award-winning Swerve magazine and has created magazines for ESPN, Seventeen, Cosmopolitan, Nickelodeon, Western Living, and The Globe and Mail. A former pop-culture correspondent for ABC World News Now and Canada AM, she is now a weekly panelist on CBC Radio's Daybreak Alberta. Follow her on Twitter @youngblut and Instagram @youngblutshelley.
Curiouser?
Shy by Max Porter review – exhilarating portrait of a lost boy in 90s Britain – The Guardian
On my radar: Max Porter's Cultural Highlights – The Guardian