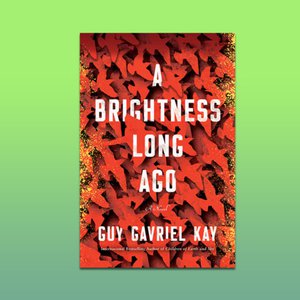 Guy Gavriel Kay
May 23 @ 7 PM - 8:30 PM
Patricia A. Whelan Performance Hall, Central Library
800 3 Street SE
Join us for an evening with the internationally bestselling author of Tigana and The Lions of Al-Rassan, Guy Gavriel Kay as he presents his masterful new novel, A Brightness Long Ago. Set in the vivid world of early Renaissance Italy, the novel offers an extraordinary cast of characters whose lives come together through destiny, love, and ambition. CBC host Jennifer Keene will be doing the on-stage interview, followed by an audience Q&A and book signing.
"Kay is a genius. I've read him all my life and am always inspired by his work" - #1 New York Times bestselling author Brandon Sanderson
About A Brightness Long Ago
In a chamber overlooking the nighttime waterways of a maritime city, a man recalls his youth and the people who shaped his life. Danio Cerra's intelligence won him entry to a renowned school even though his family was not of high class. He took service at the court of a count and soon learned why the man was known as, The Beast.
Danio's fate changed the moment he saw and recognized Adria Ripoli as she entered the count's chambers one autumn night, intending to kill. Instead of a life of comfort, Adria had chosen one of danger and freedom. Which is how she encounters Danio in a perilous time and place.
A Brightness Long Ago offers both compelling drama and deeply moving reflections on the nature of memory, the choices we make in life, and the role played by the turning of Fortune's wheel.
About Guy Gavriel Kay
Guy Gavriel Kay is the international bestselling author of many novels and one book of poetry. He has been awarded the International Goliardos Prize for his work in literature of the fantastic and won the World Fantasy Award for Ysabel in 2008. In 2014, Kay was named to the Order of Canada, the country's highest civilian honour. His work has been translated into more than 25 languages.
About Jennifer Keene
Jennifer Keene has worked for the CBC for 15 years – starting in her hometown of Edmonton. She studied English literature and drama at Universities in Alberta and Toronto, before joining CBC Radio as a theatre critic. That turned into a career as an arts reporter and now, the Senior Producer of the Calgary Eyeopener. She's impressed by the enthusiastic community spirit of Calgary, owns a cowboy hat, but still harbours a secret love for the Oilers.