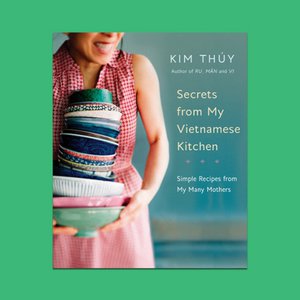 Discover Easy-to-Make Recipes from Novelist Kim Thuy
Stuffed Squash Soup and Vermicelli Bowls and Fried Lemongrass Fish, OH MY! This conversation-style event is for anyone who has ever said the words, "I wish I could cook like that." Legendary author and former restaurateur, Kim Thúy presents her new cookbook, Secrets From My Vietnamese Kitchen, complete with 50 easy-to make recipes. This event includes an on-stage interview, followed by an audience Q&A and book signing.
"Kim Thúy's cookbook goes above and beyond.... Through Sarah Scott's photography, along with sublime archive shots, we discover aspects of a fascinating culture: its beauty, its richness, its subtleties and its soul." -Huffpost Québec
About Secrets From My Vietnamese Kitchen
Between careers as a lawyer and an acclaimed novelist, Kim Thúy ran a celebrated restaurant called Ru de Nam in Montreal. Now, in her first cookbook, Kim combines her beautiful storytelling style with simple and wonderful recipes that are full of flavour: surprising yet comforting, and easy enough for every day. Welcoming us into her close-knit circle, she introduces us to her mother and five aunts, each with her own secrets and stories, told through the food of the country they had to leave, Vietnam.
Kim says that Vietnamese often display their affection more easily with food than with words. This exquisite book deliciously demonstrates that every meal is an opportunity to show love, and to be grateful for those who sit down to eat with us.
About Kim Thúy
Born in Saigon in 1968, Kim Thúy left Vietnam with the boat people at the age of ten and settled with her family in Quebec. A graduate in translation and law, she has worked as a seamstress, interpreter, lawyer, restaurant owner, and commentator on radio and television. She is also the award-winning author of Ru, Vi, and Mãn. She lives in Montreal where she has devoted herself to writing.